The 55th Annual Scientific Conference of the Malaysian Society of Parasitology and Tropical Medicine (MSPTM) 2019
"Scaling Up Efforts in Tropical Disease and Vector Control through Evidence-Based Research"
| | |
| --- | --- |
| Date: | 13 – 14 March 2019 (Wednesday and Thursday) |
| Time: | 13 March 2019: 8.00 am – 6.00 pm; 6.30 pm - networking dinner   14 March 2019: 8.00 am – 5.45 pm |
| Venue: | InterContinental Hotel Kuala Lumpur, Malaysia |
Topics Covered
1
Malaria
2
Veterinary Parasitology
3
Vector Biology & Control
4
Neglected Tropical Diseases
5
Dengue
6
Emerging Zoonoses
7
Medical & Forensic Entomology
8
Medical Microbiology & Parasitology
9
Insecticide Resistance
10
Antibiotic Resistance
11
General Topics
Target Audience
Public health doctors and clinicians, parasitologists, entomologists, veterinarians, researchers and university students in the field of tropical infectious diseases, pest control operators and interested private industries.
MSPTM 2019 REGISTRATION
Register now and secure your participation with MSPTM 2019. The registration fees along with the related terms and conditions are available below. Please read them carefully.
Register Now
---
Registration Fees
| | |
| --- | --- |
| Category | Rate per pax |
| MSPTM Member | MYR 700.00 |
| Non-MSPTM Member | MYR 900.00 |
| MSPTM Senior Member *60 years old and above | MYR 500.00 |
| Local Student | MYR 600.00 |
| International Delegate | MYR 1,000.00 |
| International Student | MYR 800.00 |
*Registration fee includes all the conference sessions, conference materials, tea breaks, daily lunch, access to the exhibition and networking dinner
---
Additional Tickets
| | |
| --- | --- |
| Category | Rate |
| Networking Dinner 13 March 2019 | MYR 130.00 per ticket |
---
TERMS AND CONDITIONS OF REGISTRATION
Registration Entitlement
Full registration fee includes Conference Sessions, Conference materials, Conference dinner and refreshment breaks and lunches.
Fees for accommodation, airport transfer, flights and tours are NOT included in the registration fees.
Registration Process and Payment
Participants may register via online registration at www.msptm.org. Alternatively, they may complete the registration form and send it to the MSPTM 2019 Conference Secretariat via e-mail at secretariat.msptm@aosconventions.com
Online registration is only open until 1 March 2019 (GMT +8hrs). After 1 March 2019, kindly register onsite at the Conference venue where registration counter will be open on 11 March 2019 from 0800 – 1800hrs. Only credit card or cash is applicable for onsite registration.
Full payment of registration fee via local bank cheque or e-Perolehan must be received by 5 March 2019.
For payment made via Local Purchase Order (LPO), the original copy of LPO must be received by 20 Feb 2019. Please mail the original copy of the LPO to MSPTM 2019 Conference Secretariat for verification purpose and confirmation of your participation.
Confirmation letter of registration will be sent via email upon full payment of the registration fee received. Please bring along the confirmation letter and present it at the registration counter during the Conference.
Payment of registration fees can be made via: Telegraphic/Bank Transfer, Local Purchase Order (Applicable to Malaysian Government Agencies only), and Bank Cheque (Applicable to Malaysia's Local Bank Cheque only).
The Organiser reserves the rights, and will inform Participants on any alteration to any of the arrangements for the Conference including the cancellation of the event should unforeseen circumstances require such action.
In the special circumstances that the entire event has to be cancelled, the Organiser will refund the registration fee to the Participant. However, the Organiser will not be liable for other associated costs, e.g. accommodation and travelling expenses, and any inconveniences incurred to the Participants due to the cancellation. Therefore, Participants are advised to arrange for their own travel insurance.
Registration Transfer
All paid registrations are transferrable on or before 01 Feb 2019. Transfer requests must be made by e-mail to the MSPTM 2019 Conference Secretariat at secretariat.msptm@aosconventions.com. The new Participant should complete the registration form and revert to us by 15 Feb 2019. Transfer of registration will not be allowed on or after 15 Feb 2019.
Cancellation and Refund Policies
All cancellation of registration must be done in writing and submitted to the MSPTM 2019 Conference Secretariat via e-mail at secretariat.msptm@aosconventions.com on or before 15 Jan 2019 to receive a full refund. RM100 administration fee will be imposed.
Cancellation made after 15 Jan 2019 or 'no show' is liable for FULL registration fee.
All refunds will be made in MYR at the prevailing foreign exchange rate.
Refund for cancellations will be made within three months after the Conference.
Any charges imposed by banks and Credit Card issuers will be borne by the Registrants.
Letter of Invitation (for Visa Application)
Registrants must possess a valid passport or other internationally recognised travel documents endorsed for travelling to Malaysia, with a validity period of at least six (6) months beyond the time of stay allowed in Malaysia. Registrants may request the Visa Invitation Request Form by email to secretariat.msptm@aosconventions.com. Please note that it is the sole responsibility of the Registrant to obtain the necessary paperwork for entry into Malaysia. The invitation letter will only be provided to Registrants who has registered and paid in full for the Conference. This letter will facilitate but does not guarantee that you will be granted a visa.
Visa requirements are dependent on the country of origin and last port of disembarkation before entering Malaysia. For detailed information on visa applications, please visit: http://www.imi.gov.my/index.php/en/main-services/visa/visa-requirement-by-country . Registrants can also contact the nearest Malaysian consulate to confirm visa requirements.
Liability
The Organiser reserves the right to make changes were deemed necessary, with or without prior notice to parties concerned. All disputes are subjected to the Malaysian Law. We kindly ask you to authorise us by your signature to use all registration data given in this form for computerised handling of the Conference.
Privacy Notice General Data Protection Regulations (GDPR) (EU) 2016/679 and Personal Data Protection Act (PDPA) 2010 Malaysia.
PROGRAMME AT A GLANCE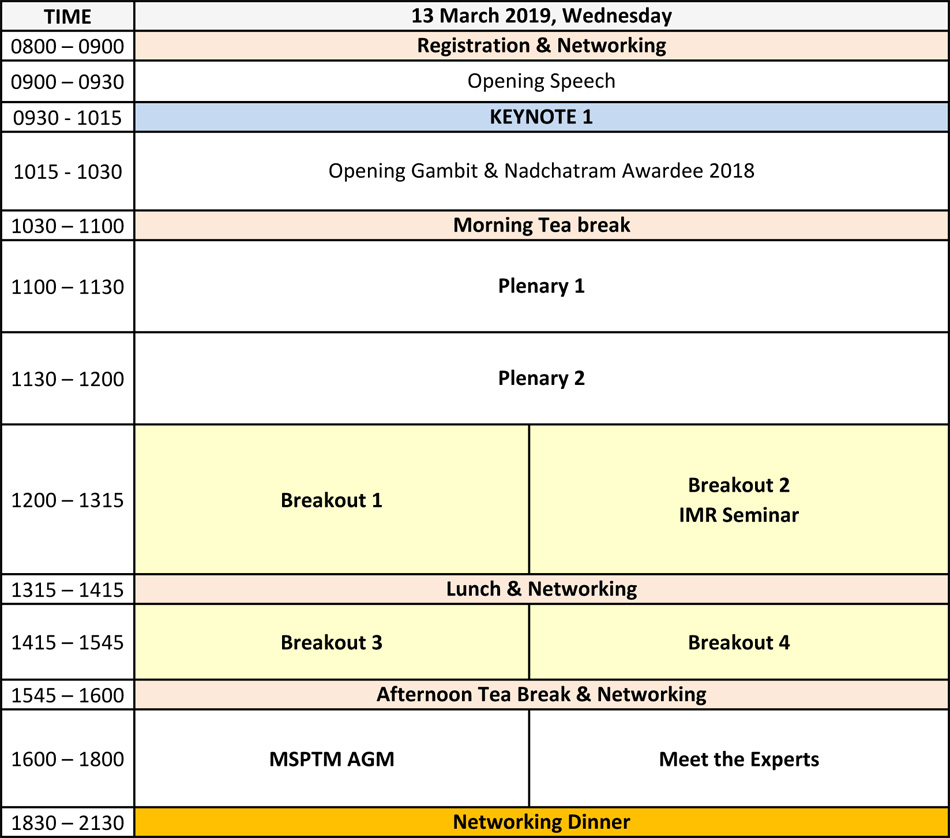 *Programme is subject to change without prior notice.
ABSTRACT SUBMISSIONS
ABSTRACT SUBMISSIONS
---
The organising committee for the 55th MSPTM Annual Scientific Conference (MSPTM 2019) would like to invite prospective authors to submit abstracts for oral and e-poster presentations at the Conference. The committee particularly encourages graduate students to participate in the Conference. Abstract submissions will be closed on 10th Feb 2019. Conference theme: Scaling Up Efforts in Tropical Disease and Vector Control through Evidence-Based Research The Conference will focus on Parasitology and Tropical Medicine with the following themes:
Malaria
Veterinary Parasitology
Vector Biology & Control
Neglected Tropical Diseases
Dengue
Emerging Zoonoses
Medical & Forensic Entomology
Medical Microbiology & Parasitology
Insecticide Resistance
Antibiotic Resistance
General Topics
All abstracts will be reviewed and assigned to an appropriate session. Authors of the accepted abstracts will be notified of the methods of presentations as follow:
| | |
| --- | --- |
| Oral Presentation | 15 minutes oral presentation in themed sessions including question & answer. (13mins presentation + 2mins Q&A) Presenters must submit their presentation slides in Microsoft Power Point format via email to the conference secretariat by 5th March 2019. (email: secretariat.msptm@aosconventions.com) |
| E-Poster Presentation | Authors shall present their poster in one presentation slide with 3mins oral presentation. (No Q&A session) |
| E-Poster Presentation – Student Competition | Authors shall present their poster in one presentation slide with 3mins oral presentation. (3mins presentation + 1 min Q&A session to be conducted by judges) |
Abstract submitters may choose their preferred method of presentation upon abstract submission. However, the final decision lies with the Scientific Committee.   Guidelines and Terms and Conditions for Abstract Submissions Participants wishing to make a presentation on the results of their recent research are cordially invited to submit an abstract according to the following instructions.   Abstract Content: The abstract should be informative and stand alone in its content and meaning. It should include a brief introduction, methods used, key results, brief discussion and a conclusion. The abstract will be reviewed based on technical merit, scientific contribution and relevance under the chosen theme. General Format and Requirements for Abstract Submissions: The abstract format is automated by the online abstract submission system. Submitters are required to follow the instructions upon submitting abstracts via the online abstract submission portal. Important Notes for Submitters:
Submissions should be sent electronically viathe conference website ONLY.
Submissions should be written in English with a maximum of 300 words.
Each presenter may submit a maximum of TWO abstracts.
Submissions should be thoroughly checked for spelling and grammar before submission as they will be reproduced as submitted by author.
Changes will not be entertained once the abstract has been submitted viathe online submission system.
Submitters are advised to seek assistance to proof read the abstract if English is not their first language.
It is the sole responsibility of the authors to ensure accuracy of scientific content and language.
The abstract should not contain graphics or references.
Please use abbreviations with restraint.
  Consent, Permission & Copyright: Submitters must conform to the following:
To accept responsibility for the accuracy of the submitted abstract and understand that amendment is not allowed once it is submitted viathe online abstract submission system and information provided will be published exactly as submitted.
All co-authors are aware of and give consent to the content of the abstract and data presented before it is submitted. The submitter accepts responsibility as the contact person for all correspondence about the abstract and to share information with all authors about its status.
Submission of abstracts implies the author's agreement to publish the abstract in all Conference publications including the website, i.e. submitters are responsible to secure any copyright/permissions clearance required relating to any previous presentations, equipment or other material for inclusion in the MSPTM 2019 Annual Scientific Conference publications.
Submitters are responsible to obtain permission from any relevant regulatory authority and obtain consent where appropriate.
Submitters are responsible to ensure the work is original and that it does not infringe upon any copyright, proprietary or personal right of party.
Submitters are responsible to identify and sort out any potential conflicts of interest e.g. financial interest in products or processes described in the presentation materials, stock ownership, and membership on an advisory board or board of directors or other substantive relationships.
Upon completing the online abstract submission, the submitter will be asked to confirm that the presenting author has read and understood the general information and the requirements he/she is expected to fulfil.
  Condition of Acceptance
It is a pre-requisite of the acceptance of the abstract that the submitter must register to attend the Conference and present the work orally or as an e-poster. Abstracts submitted before payment of registration are eligible for an offer of acceptance. However, final acceptance requires registration by the deadline of 25thFeb 2019.
All authors must attend the conference at least on the day of their presentation. Acceptance of abstracts does not imply any payment by the Conference Committee. Authors must arrange and pay for their own accommodation, travel etc. to attend the Conference.
MSPTM 2019 offers a variety of sponsorship opportunities. Please click the below button to download the full version of MSPTM 2019 Sponsorship Prospectus.
Download Sponsorship Prospectus
---
We will work together personally with each of our sponsors to ensure that we maximise your investment. The packages provided in the sponsorship prospectus are flexible; we would welcome the opportunity to tailor made a package to meet your objectives. Please feel free to contact MSPTM 2019 Sponsorship Committee for more information:
Dr Vickneshwaran Muthu - +60 19-336 6018
Dr Nur Mahiza Md Isa - +60 11-1160 4200