The 55th Annual Scientific Conference of the Malaysian Society of Parasitology and Tropical Medicine (MSPTM) 2019
"Scaling Up Efforts in Tropical Disease and Vector Control through Evidence-Based Research"
| | |
| --- | --- |
| Date: | 13 – 14 March 2019 (Wednesday and Thursday) |
| Time: | 13 March 2019: 8.00 am – 6.00 pm; 6.30 pm - networking dinner   14 March 2019: 8.00 am – 5.45 pm |
| Venue: | InterContinental Hotel Kuala Lumpur, Malaysia |
Topics Covered
1
Malaria
2
Veterinary Parasitology
3
Vector Biology & Control
4
Neglected Tropical Diseases
5
Dengue
6
Emerging Zoonoses
7
Medical & Forensic Entomology
8
Medical Microbiology & Parasitology
9
Insecticide Resistance
10
Antibiotic Resistance
11
General Topics
Target Audience
Public health doctors and clinicians, parasitologists, entomologists, veterinarians, researchers and university students in the field of tropical infectious diseases, pest control operators and interested private industries.
MSPTM 2019 REGISTRATION
Register now and secure your participation with MSPTM 2019. The registration fees along with the related terms and conditions are available below. Please read them carefully.
Register Now
---
Registration Fees
| | |
| --- | --- |
| Category | Rate per pax |
| MSPTM Member | MYR 700.00 |
| Non-MSPTM Member | MYR 900.00 |
| MSPTM Senior Member *60 years old and above | MYR 500.00 |
| Local Student | MYR 600.00 |
| International Delegate | MYR 1,000.00 |
| International Student | MYR 800.00 |
*Registration fee includes all the conference sessions, conference materials, tea breaks, daily lunch, access to the exhibition and networking dinner
---
Additional Tickets
| | |
| --- | --- |
| Category | Rate |
| Networking Dinner 13 March 2019 | MYR 130.00 per ticket |
---
Pre & Post-Conference Workshops
Category
Rate per pax

Pre-Conference Workshop (11 - 12 March 2019)

Rodent Database Workshop (co-organizing with the University of Malaya)

Venue: University of Malaya

Free

Post-Conference Workshop (15 March 2019)

Wellcome Trust Grantsmanship Workshop

Venue: University of Malaya

MYR 50.00
---
TERMS AND CONDITIONS OF REGISTRATION
Registration Entitlement
Full registration fee includes Conference Sessions, Conference materials, Conference dinner and refreshment breaks and lunches.
Fees for accommodation, airport transfer, flights and tours are NOT included in the registration fees.
Registration Process and Payment
Participants may register via online registration at www.msptm.org. Alternatively, they may complete the registration form and send it to the MSPTM 2019 Conference Secretariat via e-mail at secretariat.msptm@aosconventions.com
Online registration is only open until 1 March 2019 (GMT +8hrs). After 1 March 2019, kindly register onsite at the Conference venue where registration counter will be open on 11 March 2019 from 0800 – 1800hrs. Only credit card or cash is applicable for onsite registration.
Full payment of registration fee via local bank cheque or e-Perolehan must be received by 5 March 2019.
For payment made via Local Purchase Order (LPO), the original copy of LPO must be received by 20 Feb 2019. Please mail the original copy of the LPO to MSPTM 2019 Conference Secretariat for verification purpose and confirmation of your participation.
Confirmation letter of registration will be sent via email upon full payment of the registration fee received. Please bring along the confirmation letter and present it at the registration counter during the Conference.
Payment of registration fees can be made via: Telegraphic/Bank Transfer, Local Purchase Order (Applicable to Malaysian Government Agencies only), and Bank Cheque (Applicable to Malaysia's Local Bank Cheque only).
The Organiser reserves the rights, and will inform Participants on any alteration to any of the arrangements for the Conference including the cancellation of the event should unforeseen circumstances require such action.
In the special circumstances that the entire event has to be cancelled, the Organiser will refund the registration fee to the Participant. However, the Organiser will not be liable for other associated costs, e.g. accommodation and travelling expenses, and any inconveniences incurred to the Participants due to the cancellation. Therefore, Participants are advised to arrange for their own travel insurance.
Registration Transfer
All paid registrations are transferrable on or before 01 Feb 2019. Transfer requests must be made by e-mail to the MSPTM 2019 Conference Secretariat at secretariat.msptm@aosconventions.com. The new Participant should complete the registration form and revert to us by 15 Feb 2019. Transfer of registration will not be allowed on or after 15 Feb 2019.
Cancellation and Refund Policies
All cancellation of registration must be done in writing and submitted to the MSPTM 2019 Conference Secretariat via e-mail at secretariat.msptm@aosconventions.com on or before 15 Jan 2019 to receive a full refund. RM100 administration fee will be imposed.
Cancellation made after 15 Jan 2019 or 'no show' is liable for FULL registration fee.
All refunds will be made in MYR at the prevailing foreign exchange rate.
Refund for cancellations will be made within three months after the Conference.
Any charges imposed by banks and Credit Card issuers will be borne by the Registrants.
Letter of Invitation (for Visa Application)
Registrants must possess a valid passport or other internationally recognised travel documents endorsed for travelling to Malaysia, with a validity period of at least six (6) months beyond the time of stay allowed in Malaysia. Registrants may request the Visa Invitation Request Form by email to secretariat.msptm@aosconventions.com. Please note that it is the sole responsibility of the Registrant to obtain the necessary paperwork for entry into Malaysia. The invitation letter will only be provided to Registrants who has registered and paid in full for the Conference. This letter will facilitate but does not guarantee that you will be granted a visa.
Visa requirements are dependent on the country of origin and last port of disembarkation before entering Malaysia. For detailed information on visa applications, please visit: http://www.imi.gov.my/index.php/en/main-services/visa/visa-requirement-by-country . Registrants can also contact the nearest Malaysian consulate to confirm visa requirements.
Liability
The Organiser reserves the right to make changes were deemed necessary, with or without prior notice to parties concerned. All disputes are subjected to the Malaysian Law. We kindly ask you to authorise us by your signature to use all registration data given in this form for computerised handling of the Conference.
Privacy Notice General Data Protection Regulations (GDPR) (EU) 2016/679 and Personal Data Protection Act (PDPA) 2010 Malaysia.
PROGRAMME AT A GLANCE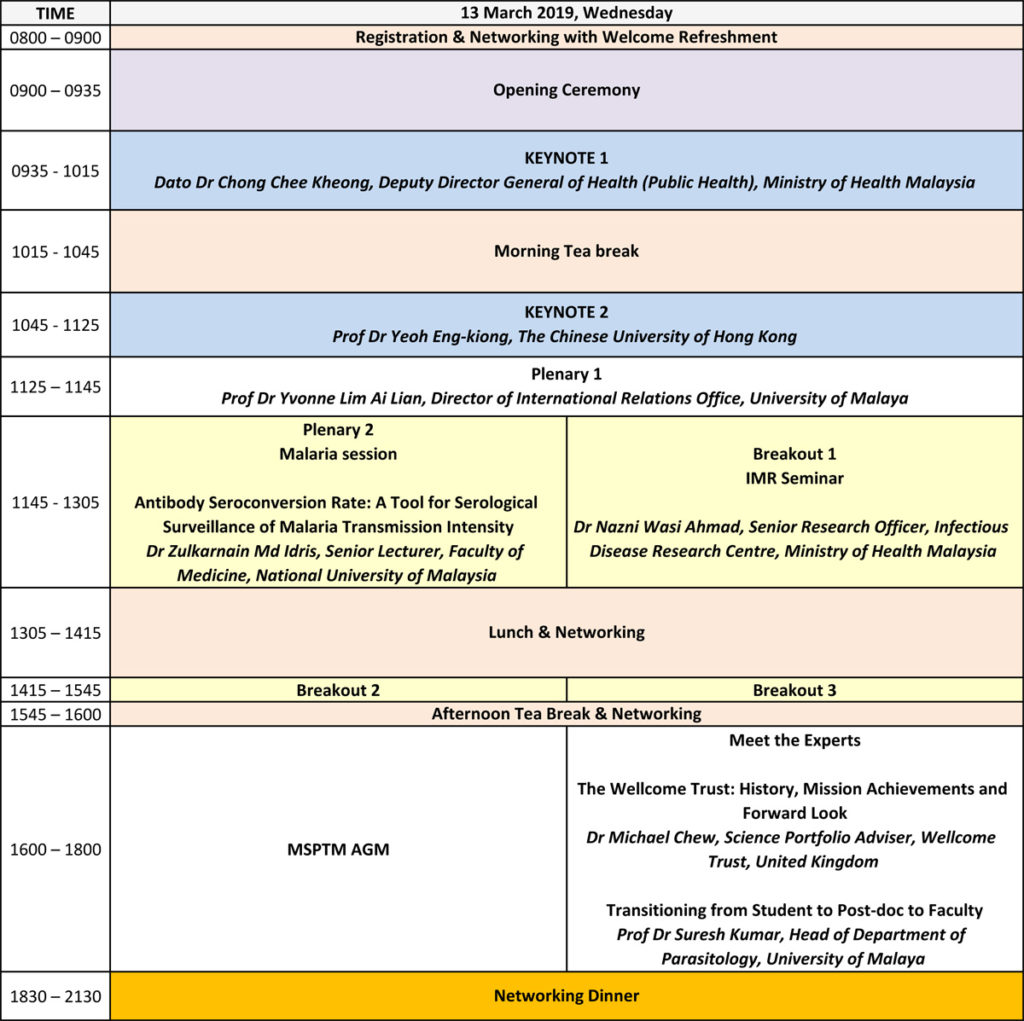 ---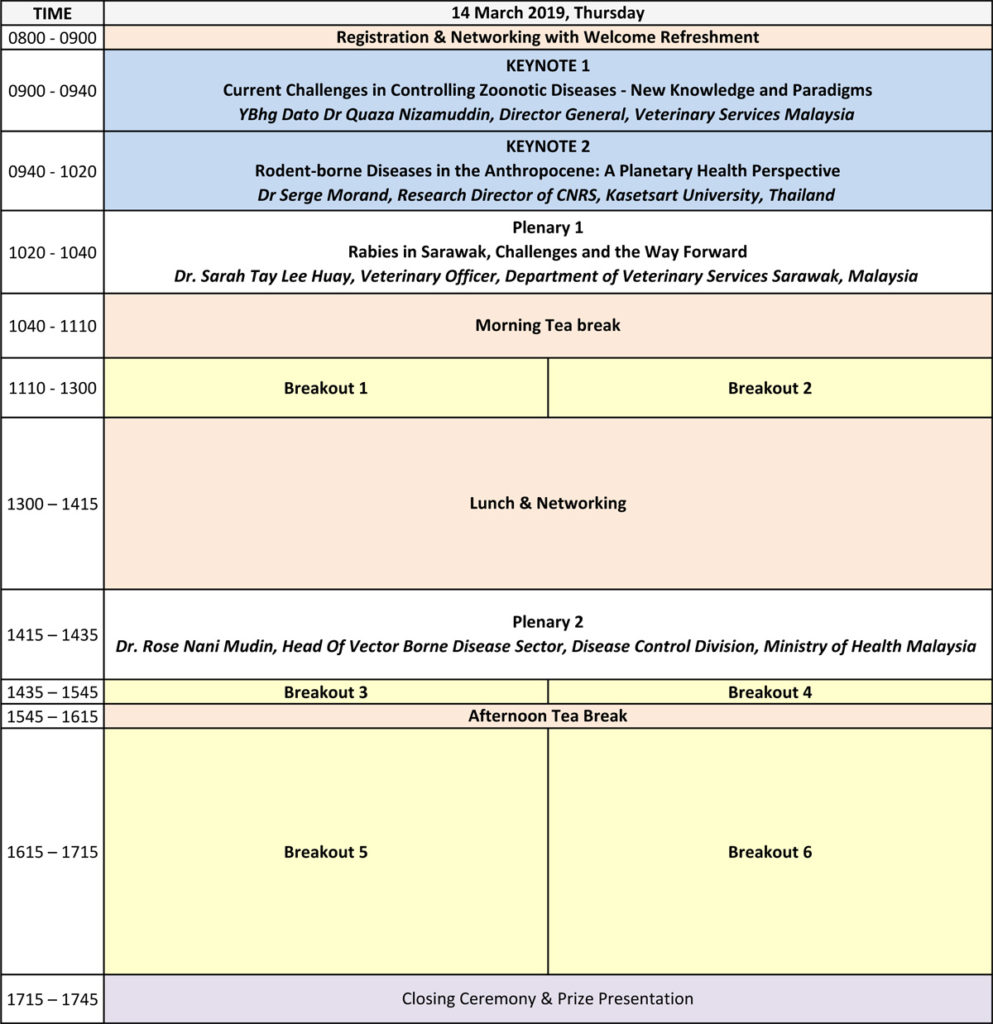 *Programme is subject to change without prior notice.
SPEAKERS
Day 1: 13 March 2019, Wednesday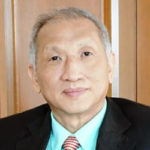 Dato Dr Chong Chee Kheong
Deputy Director General of Health (Public Health), Ministry of Health Malaysia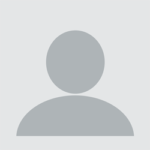 Prof Dr Yeoh Eng-kiong
The Chinese University of Hong Kong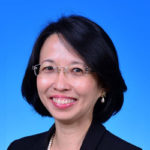 Prof Dr Yvonne Lim Ai Lian
Director of International Relations Office, University of Malaya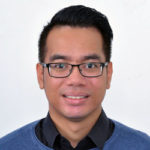 Dr Zulkarnain Md Idris
Senior Lecturer, Department of Parasitology, Faculty of Medicine, National University of Malaysia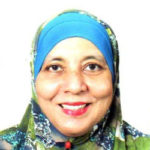 Dr Nazni Wasi Ahmad
Senior Research Officer, Infectious Disease Research Centre, Ministry of Health Malaysia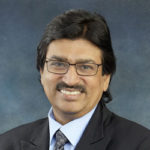 Prof Dr Suresh Kumar
Head of Department of Parasitology, University of Malaya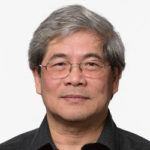 Dr Michael Chew
Science Portfolio Adviser, Wellcome Trust, United Kingdom
---
Day 2: 14 March 2019, Thursday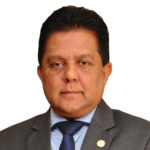 YBhg Dato Dr Quaza Nizamuddin
Director General, Veterinary Services Malaysia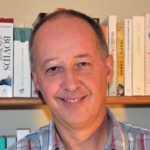 Dr Serge Morand
Research Director of CNRS, Kasetsart University, Thailand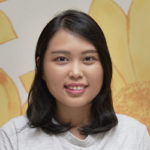 Dr Sarah Tay Lee Huay
Veterinary Officer, Department of Veterinary Services Sarawak, Malaysia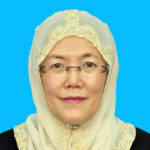 Dr Rose Nani Mudin
Head Of Vector Borne Disease Sector, Disease Control Division, Ministry of Health Malaysia
ABSTRACT SUBMISSIONS
ABSTRACT SUBMISSIONS
---
The organising committee for the 55th MSPTM Annual Scientific Conference (MSPTM 2019) would like to invite prospective authors to submit abstracts for oral and e-poster presentations at the Conference. The committee particularly encourages graduate students to participate in the Conference. Abstract submissions will be closed on 10th Feb 2019. Conference theme: Scaling Up Efforts in Tropical Disease and Vector Control through Evidence-Based Research The Conference will focus on Parasitology and Tropical Medicine with the following themes:
Malaria
Veterinary Parasitology
Vector Biology & Control
Neglected Tropical Diseases
Dengue
Emerging Zoonoses
Medical & Forensic Entomology
Medical Microbiology & Parasitology
Insecticide Resistance
Antibiotic Resistance
General Topics
All abstracts will be reviewed and assigned to an appropriate session. Authors of the accepted abstracts will be notified of the methods of presentations as follow:
| | |
| --- | --- |
| Oral Presentation | 15 minutes oral presentation in themed sessions including question & answer. (13mins presentation + 2mins Q&A) Presenters must submit their presentation slides in Microsoft Power Point format via email to the conference secretariat by 5th March 2019. (email: secretariat.msptm@aosconventions.com) |
| E-Poster Presentation | Authors shall present their poster in one presentation slide with 3mins oral presentation. (No Q&A session) |
| E-Poster Presentation – Student Competition | Authors shall present their poster in one presentation slide with 3mins oral presentation. (3mins presentation + 1 min Q&A session to be conducted by judges) |
Abstract submitters may choose their preferred method of presentation upon abstract submission. However, the final decision lies with the Scientific Committee.   Guidelines and Terms and Conditions for Abstract Submissions Participants wishing to make a presentation on the results of their recent research are cordially invited to submit an abstract according to the following instructions.   Abstract Content: The abstract should be informative and stand alone in its content and meaning. It should include a brief introduction, methods used, key results, brief discussion and a conclusion. The abstract will be reviewed based on technical merit, scientific contribution and relevance under the chosen theme. General Format and Requirements for Abstract Submissions: The abstract format is automated by the online abstract submission system. Submitters are required to follow the instructions upon submitting abstracts via the online abstract submission portal. Important Notes for Submitters:
Submissions should be sent electronically via the conference website ONLY.
Submissions should be written in English with a maximum of 300 words.
Each presenter may submit a maximum of TWO abstracts.
Submissions should be thoroughly checked for spelling and grammar before submission as they will be reproduced as submitted by author.
Changes will not be entertained once the abstract has been submitted viathe online submission system.
Submitters are advised to seek assistance to proof read the abstract if English is not their first language.
It is the sole responsibility of the authors to ensure accuracy of scientific content and language.
The abstract should not contain graphics or references.
Please use abbreviations with restraint.
  Consent, Permission & Copyright: Submitters must conform to the following:
To accept responsibility for the accuracy of the submitted abstract and understand that amendment is not allowed once it is submitted viathe online abstract submission system and information provided will be published exactly as submitted.
All co-authors are aware of and give consent to the content of the abstract and data presented before it is submitted. The submitter accepts responsibility as the contact person for all correspondence about the abstract and to share information with all authors about its status.
Submission of abstracts implies the author's agreement to publish the abstract in all Conference publications including the website, i.e. submitters are responsible to secure any copyright/permissions clearance required relating to any previous presentations, equipment or other material for inclusion in the MSPTM 2019 Annual Scientific Conference publications.
Submitters are responsible to obtain permission from any relevant regulatory authority and obtain consent where appropriate.
Submitters are responsible to ensure the work is original and that it does not infringe upon any copyright, proprietary or personal right of party.
Submitters are responsible to identify and sort out any potential conflicts of interest e.g. financial interest in products or processes described in the presentation materials, stock ownership, and membership on an advisory board or board of directors or other substantive relationships.
Upon completing the online abstract submission, the submitter will be asked to confirm that the presenting author has read and understood the general information and the requirements he/she is expected to fulfil.
  Condition of Acceptance
It is a pre-requisite of the acceptance of the abstract that the submitter must register to attend the Conference and present the work orally or as an e-poster. Abstracts submitted before payment of registration are eligible for an offer of acceptance. However, final acceptance requires registration by the deadline of 25thFeb 2019.
All authors must attend the conference at least on the day of their presentation. Acceptance of abstracts does not imply any payment by the Conference Committee. Authors must arrange and pay for their own accommodation, travel etc. to attend the Conference.
SPONSORSHIP & EXHIBITION
 
MSPTM 2019 offers a variety of sponsorship opportunities. Please click the below button to download the full version of MSPTM 2019 Sponsorship Prospectus.
Download Sponsorship Prospectus
---
We will work together personally with each of our sponsors to ensure that we maximise your investment. The packages provided in the sponsorship prospectus are flexible; we would welcome the opportunity to tailor made a package to meet your objectives. Please feel free to contact MSPTM 2019 Sponsorship Committee for more information:
Dr Vickneshwaran Muthu - +60 19-336 6018
Dr Nur Mahiza Md Isa - +60 11-1160 4200
ACCOMMODATION
The MSPTM 2019 delegates can book their accommodation at discounted rates in the hotels listed below.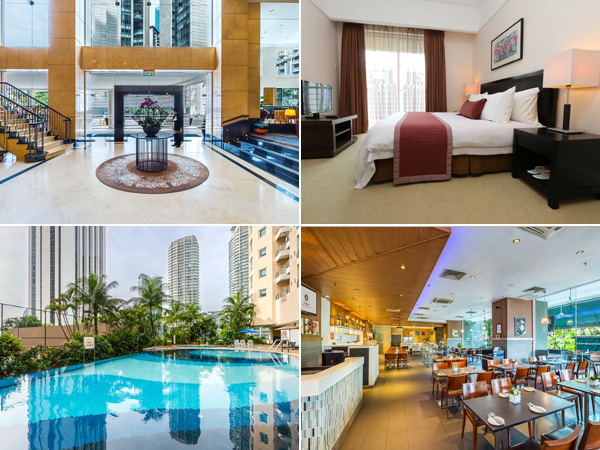 | | |
| --- | --- |
| Hotel Name | PNB Perdana Hotel & Suites On The Park, Kuala Lumpur |
| Rating | 4 Stars |
| Address | 10 Jalan Binjai, 50450 Kuala Lumpur, MALAYSIA |
| Tel | +603 7490 3333 |
| Website | www.pnbperdanaonthepark.com |
| Distance From Intercontinental KL | 3 - 6 minutes walk |
| Price Range per night | MYR 270.00 and above (USD 70.00 and above) |
| Reservation Form | Booking Form |
---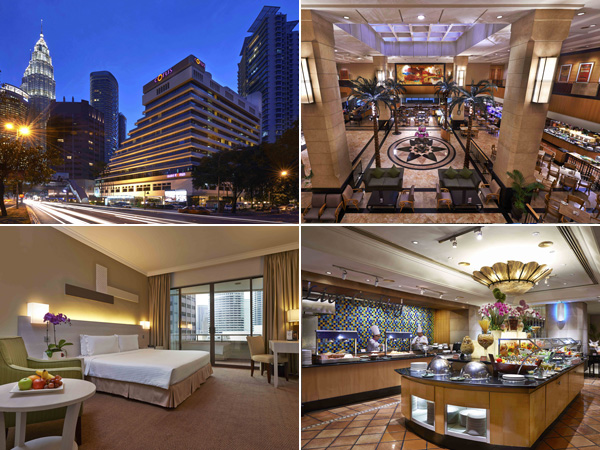 Hotel Name
Corus Hotel Kuala Lumpur
Rating
4 Stars
Address
Jalan Ampang, 50450 Kuala Lumpur
Tel
603 2161 8888
Website
www.corushotel-kl.com
Distance From KL Convention Centre
5 - 10 minutes walk
Price Range per night
MYR 290.00 and above (USD 75.00 and above)
Reservation Link
https://klcoruswhr.webhotel.microsapdc.com/

Promo code: MSPTM
---
Tourism Tax Implementation 2017
A new Federal Tourism Tax has been implemented by the Malaysian Government which takes effect on September 1st, 2017. This tax is equivalent of MYR 10.00nett per room per night. All international tourists to Malaysia are required to pay this tax and will be collected by the hotel.
Malaysian citizens (MyKad) and permanent residents (MyPR card holders) are exempted. It is mandatory to produce MyKad and/or MyPR and/or other relevant documents upon check-in for registration for identification of nationality and citizenship purposes.
The Tourism Tax is not included in the room rate.
About Malaysia & Kuala Lumpur
ABOUT MALAYSIA
To know Malaysia is to love Malaysia – a bubbling, bustling melting-pot of races and religions where Malays, Indians, Chinese and many other ethnic groups live together in peace and harmony. Our multiculturalism has made Malaysia a gastronomical paradise and home to hundreds of colourful festivals. It's no wonder that we love celebrating and socialising. As a people, Malaysians are very relaxed, warm and friendly.
Geographically, Malaysia is almost as diverse as its culture. 11 states and 2 federal territories (Kuala Lumpur and Putrajaya) form Peninsular Malaysia which is separated by the South China Sea from East Malaysia which includes the 2 states (Sabah and Sarawak on the island of Borneo) and a third federal territory, the island of Labuan. One of Malaysia's key attractions is its extreme contrasts which further add to this theme of 'diversity'. Towering skyscrapers look down upon wooden houses built on stilts while five-star hotels sit just metres away from ancient reefs.
Rugged mountains reach dramatically for the sky while their rainforest-clad slopes sweep down to floodplains teeming with forest life. Cool highland hideaways roll down to warm, sandy beaches and rich, humid mangroves.
For the perfect holiday full of surprises, the time is now, the place is Malaysia.
*Further information on the country can also be obtained from the Malaysian government's official portal, www.malaysia.gov.my.
---
ABOUT KUALA LUMPUR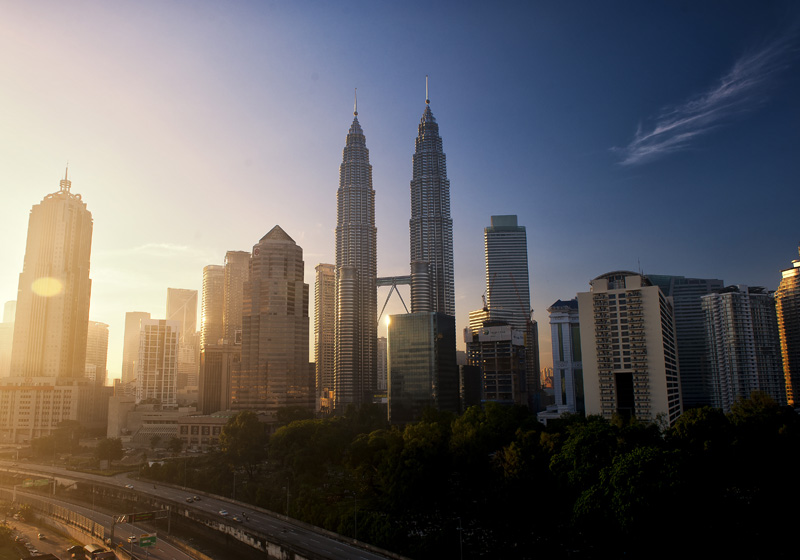 Kuala Lumpur or KL, is a dynamic metropolis of diverse cultures. As one of the most vibrant Asian cities, KL displays its charm as a melting pot of exciting and enticing attractions. Combining an eclectic mix of tradition and modernity, visitors will be pleasantly surprised at the myriad cross-cultural influences that shape its cityscape. A contrast of the old and new, Islamic -themed architecture co-exist alongside colonial heritage buildings and modern skyscrapers including the world-renowned iconic Petronas Twin Towers.
With modern facilities and world-class accommodation and options, it has gained appeal as a venue for prestigious international events. Enjoy the sights and sounds of KL – its fascinating cultures, exciting places of interest, well-preserved heritage sites and great-themed attractions. Blessed with year-round events and festivals, irresistible shopping opportunities and delicious food, KL is a destination that is not to be missed.
GENERAL INFO
People & Language
Malaysia is a multi-cultural, multi-religious and multi-ethnic society of 32 million people. Malays and Bumiputras (ethnic sons of the soil – Kadazandusun, Bajaus, Murut, Rungus, Ibans, Bidayuhs, Melanaus and others) comprise 68%, the Chinese 23% while Indians and others, the remaining 9% of the Malaysian population. As a result of its historical roots and cultural heritage, Malaysia has become a land of unique multiple facets and great diversity. While Bahasa Malaysia or Malay is the national language, English is widely spoken along with many Chinese, Indian and native dialects.
While Islam is the official religion in secular Malaysia, other faiths as Buddhism, Taoism, Hinduism, Sikhism and native beliefs are freely practiced. Hence you will find a multitude of mosques, temples, churches and gurdwaras co-existing side by side throughout the country.
Weather
The country experiences tropical weather year-round. Temperatures range from 21°C (70°F) to 32°C (90°F). Higher elevations are much colder with temperatures between 15°C (59°F) to 25°C (77°F). Annual rainfall varies from 2,000mm to 2,500mm. However, the wettest parts of Malaysia could well be the hill slopes of Sarawak's inland areas, which receive a mean annual rainfall exceeding 5,000mm.
Tips for Dressing & General Etiquette
Comfortable dressing for the tropics and its humidity should be your preferred option. Pack cotton T-shirts or short sleeve shirts paired with loose or long pants, or calf-length dresses that cover your shoulders. As for skirts, those that drop below the knee will help you minimize sunburn, keep cool and culturally modest. Shorts, sleeveless shirts, and revealing clothes are best avoided.
If you are planning to visit mosques and temples (Hindu or Sikh), or government buildings and in the rural communities, a light weight scarf offers both modesty and sun protection. In any case, popular tourist attractions such as Putrajaya and the National Mosque, may have 'scarves' and 'robes' to lend to visitors.
In metropolitan cities like Kuala Lumpur, Ipoh, Penang, Kuching, Kota Kinabalu and many others, dressing is more relaxed.
Like many Asian cultures, it is common practice and respectful to take off your shoes at places of worship and even Malaysian households. Keeps the place clean and free from dirt from being brought in. Going barefoot is very Malaysian and great for your foot massage.
Time Zone
Kuala Lumpur operates on Greenwich Mean Time (GMT) + 8 hours.
Electricity
Voltage is 220 – 240 Volt AC at 50 cycles per second. Malaysia uses standard 3-pin square plugs and sockets. You might want to carry an international adapter for convenience if you have many electronic devices to charge.
Currency
The monetary unit is Ringgit Malaysia and is written as RM or MYR. Notes are available in RM1, RM5, RM10, RM20, RM50, and RM100 denominations, while coins are issued in 5, 10, 20 and 50 sen (cents) denominations. Foreign currencies can be exchanged at banks and money changers.
Banking Hours
Monday – Friday (9.00 a.m. – 4:30 p.m.)
Closes on weekends and public holidays.
Insurance
Registration fees do not include insurance of any kind. It is strongly recommended that all delegates have their own travel and medical insurance prior to coming to the Convention. The policy should include loss of fees/deposit through cancellation of your participation in the meeting, or through cancellation of the meeting itself, loss of airfares for any reason, medical expenses, loss or damage to personal property, additional expenses and repatriation should travel arrangements have to be altered. Neither the Convention secretariat nor the Organising committee takes any responsibility for any participant failing to insure. Please consult your travel agent or airline in regard to this matter.
VISA REQUIREMENTS
Visitors to Malaysia must hold a valid passport or travel document with a minimum validity of six months beyond the intended visiting period. Most nationalities do not require visas for social or business visits. For further information, please contact the nearest Malaysian diplomatic mission or Tourism Malaysia office.
Immigration and customs checkpoints are situated at all air, sea, road and rail entry points. Visit the Malaysian Immigration Department (http://www.imi.gov.my) or Ministry of Foreign Affairs (http://www.kln.gov.my) for more info.
| | | |
| --- | --- | --- |
| Afghanistan (Visa with reference) | Equat. Guinea* | Myanmar |
| Angola* | Eritrea* | Nepal |
| Bhutan | Ethiopia* | Niger* |
| Burkina Faso* | Guinea-Bissau* | Rwanda* |
| Burundi* | Hong Kong (C.I/D.I) | Serbia Montenegro |
| Central African Republic* | India | Sri Lanka |
| China | Israel** | United Nation (Laissez Passer) |
| Colombia* | Ivory Coast (Cote d'ivoire)* | Western Sahara* |
| Congo Democratic Republic* | Liberia* | Yugosalavia |
| Djibouti* | | |
Note:
Countries marked as ( * ) visitors are allowed to enter Malaysia by air only. Israel citizens** who wish to enter are required Visa and approval from the Ministry Of Home Affairs, Malaysia. A visa is not required for a stay of less than one (1) month for ASEAN nationals except Myanmar. However visas are required for duration of stay exceeding (1) month except for Brunei and Singapore nationals.
A Yellow Fever certificate is required to be produced upon landing in Malaysia for countries as listed below:
| | | |
| --- | --- | --- |
| Angola | Ethiopia | Senegal |
| Benin | Gabon | Sierra Leone |
| Bolivia | Gambia | South Africa |
| Brazil | Ghana | Sri Lanka |
| Burkina Faso | Guinea-Bissau | St Kitts & Nevis |
| Burundi | Kenya | Suriname |
| Cameroon | Mali | Tanzania |
| Central African Republic | Niger | Togo |
| Chad | Nigeria | Uganda |
| Djibouti | Panama | Venezuela |
| Ecuador | Peru | Zaire |
| Guinea | Rwanda | Zambia |
| Eritrea | Sao Tome & Principe | |
How to apply for a Visa
Visa applications must be made at any nearest Malaysian Representative Office abroad. Applications can also applied online through I-Visa System (Applicable for tourists from India and China only). Documents required for the application of a visa without reference are:
Original passport
Two (2) photocopies of the applicant's passport
Two (2) photocopies of the visa application form (Form IMM.47)
Two (2) passport size photographs of the applicant
Original and two (2) photocopies of the ticket (confirmed and returned ticket)
Bank statement / traveller's cheque
Invitation letter (if any)
Payment of the visa fee
Note : Visa Without Reference is required for the purpose of a social visit.
E – Visa
What is eVISA?
eVISA is an online application platform that enables foreign nationals to apply for an electronic visa to enter Malaysia at their convenience.
Who is eligible for eVISA?
eVISA Nationality eligibility:
Nationality
Apply From
China
eVISA can be applied around the world except Malaysia and Singapore
India
Sri Lanka
Nepal
Myanmar
Bangladesh
Pakistan
Bhutan
Serbia
Montenegro
For more information please visit http://www.imi.gov.my/index.php/en/visa/evisa.html
MOVING AROUND
Accessibility and Local Transportation
Peninsular Malaysia has one of the best road system network in Asia. A network of expressways and arterial trunk roads links you to towns, villages and to many recreation areas. The main North-South Highway extends over 800 km from the Thai border to Singapore in the south.
Buses and Taxis
It is the most popular form of transport. Express buses and regional links connect many towns and cities. Fares are charged according to the distance covered.
Taxi Services
This is the most widely, accessible form of transport. City taxis operate by meter and may be hired from taxi stands, hailed by the roadside or through a radiophone paging system. GRAB cars are easily available via an Apps using your smartphone. There are also minivan-type taxis for ferrying more people.
Grab
Grab is a peer-to-peer ride sharing, taxi cab and transportation network company. Riding with Grab, you could enjoy the certainty of fixed fares, insurance coverage and quality drivers with every ride.
Light Rail Transit (LRT) and KL Monorail
Provide inner-city public transportation for Kuala Lumpur, serving businesses, hotels and shopping districts, and also major parts of greater Kuala Lumpur. Fares are more affordable than taxis. Click here for more information.
KLIA Express
When you are going to and from the Airport, the fastest way is the new KLIA Express. The non-stop travel takes less than 30 minutes and ends at the new KL Sentral integrated Hub. Click here for more information.