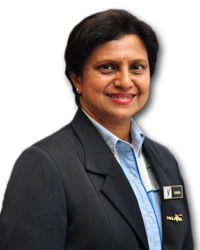 Dr. P. Chandrawathani
President MSPTM 2017-2018
54th Council
Greetings from the Malaysian Society of Parasitology and Tropical Medicine!  Welcome to the official website of the MSPTM, a society which is made up of a  diverse group of over 800 scientists from industry, government, and academia who are interested in the study and teaching of Parasitology. Founded in 1964, MSPTM members have contributed not only to the development of parasitology as a discipline, but also to primary research in systematics, medicine, molecular biology, immunology, physiology, ecology, biochemistry, behavior, and more.  Historically, the home of the society has been Institute for Medical Research, and Malaysia has been the centre of many research programmes and knowledge acquisition in the field of entomology and parasitology such as malaria and mosquito borne diseases such as dengue. The society also incorporates scientists in the area of veterinary, wildlife and fish parasitology.Since its inception, the society has grown by leaps and bounds, through annual conferences, mid year seminars, international congress, training programmes with various governmental and commercial organisations, supporting students and teaching of parasitology and tropical medicine.  The pride of our society is our Journal Tropical Biomedicine which publishes peer reviewed scientific research articles which is open access. It has grown from 2 volumes per year to an E publication of 4 volumes per year with an impressive impact factor and is indexed by Web of Science (ISI) and Pubmed.
The society also recognises  members who have contributed significantly towards new knowledge in the field of parasitology and tropical medicine through the gold and silver medals, now known as Sandosham and Natchatram medals respectively. Please have a look at our medal winners!
We welcome new members to MSPTM, and hope you will find the excitement and camaraderie to spur you in the search for knowledge in this field. To all our existing members from universities, governmental organisations, scientific commercial companies as well as special interest groups such as animal welfare groups, we wish you continued success in your work and do keep attending our events, giving suggestions to further improve the society.  The 21st Century is panning out to more challenges in terms of new diseases in humans and animals, creating more opportunities for scientists to work on biotechnology, vaccinology and immunology.
MSPTM  serves as a networking opportunity for professionals and students involved with Parasitology including research, education, control and management of parasitic diseases. The annual highlight is the Annual Scientific Conference and Annual General meeting  where  you can update on the latest scientific information via oral, poster and plenary sessions as well as booths showcasing the latest equipment or products. In addition MSPTM organises a mid year seminar with current and relevant topics delivered by top scientists for knowledge sharing.  Our website  advertises current updates and major international events of relevance to Parasitology. Please contact our secretary if you wish to inform the members about upcoming events.
In conjunction with the 40 Anniversary of the Society in 2004, the MSPTM spearheaded and organised the 1st ASEAN Congress of Tropical Medicine and Parasitology. The objective of this congress is to have a platform for the region so that scientists can collaborate and present their findings. It is held biennially in rotation among the ASEAN countries and the  8th Congress will be held in Hanoi in 2018.
On behalf of the council of MSPTM, we hope you will be interested in joining our society or collaborate with our members. Welcome to our world of Malaysian Parasitology  and Tropical Medicine.